Feature highlights
Get more subscribers

Connect to your newsletter platform to get more subscribers.

Store customers' Human Design details

Connect with Notion or Airtable.

Payment Integrations

Integrate with PayPal, Stripe, WooCommerce, or ThriveCart to sell your Human Design reports.

Use Webhook for more

You can easily use Zapier or Make.com connections.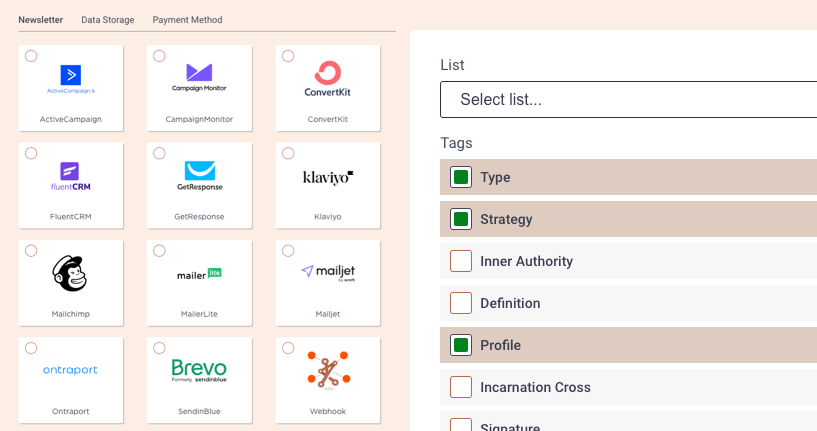 Tag customers by Energy Type, Profile, and more
After connecting your newsletter platform, you can tag customers by Energy Type, Profile, Authority, and many other criteria. Additionally, you can create custom fields.
Webinars
December 4, 2023 8:00 pm GMT+0
Turning Passion into Profit: Amy Lea's Human Design Business Success
Join Amy Lea, a renowned Human Design entrepreneur, in this engaging webinar. Discover her journey from concept to success, uncovering the key strategies and insights that helped her build a thriving business in the dynamic field of Human Design. Ideal for aspiring entrepreneurs and enthusiasts, this session promises practical advice, real-world examples, and a Q&A segment. Don't miss out on this opportunity to learn from a leader in the industry!
December 14, 2023 9:00 pm GMT+0
Key Steps to take when starting Human Design business
Join our insightful webinar, hosted by Viktorija and Chelsie, to learn the key steps for launching a successful Human Design business. Discover how to overcome challenges, grow your online presence, and make an impact in the digital world. This session is perfect for newcomers and those looking to enhance their strategies.
Stay informed about upcoming webinars
Don't miss out on our informative sessions. Subscribe now to receive notifications and ensure you're always in the loop about our latest Bodygraph Chart webinars.