Feature highlights
Clone languages

Duplicate languages and make necessary adjustments.

Personalize descriptions

Craft unique Human Design property explanations that resonate with your audience.

Control displayed properties

Choose which Human Design properties to show or hide.

Export/Import functionality

Export to an Excel sheet, make necessary changes, and import seamlessly.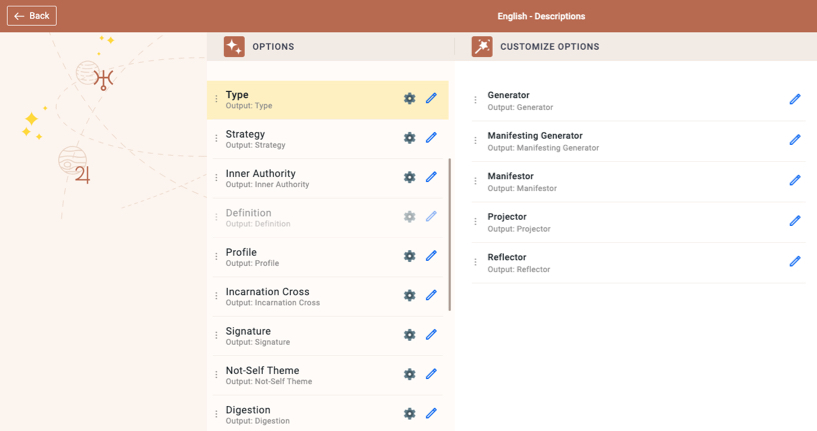 Tailor your interpretations
Create the meanings to resonate better with distinct audiences. This feature is particularly valuable for specific contexts like business or parenting. For instance, a corporate client may connect more with "Projector" than "Manager."
Translation for global reach
Our content is readily translated into various popular languages. These include German, Swedish, Portuguese, Traditional Chinese, and more. We consistently expand to incorporate additional languages.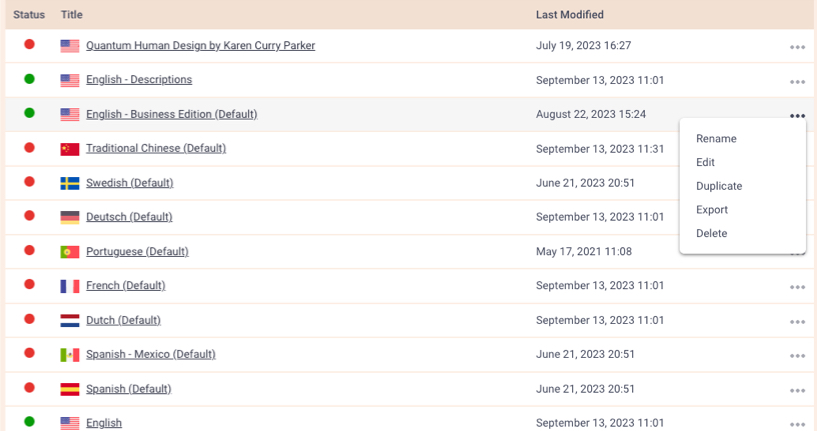 Webinars
December 4, 2023 8:00 pm GMT+0
Turning Passion into Profit: Amy Lea's Human Design Business Success
Join Amy Lea, a renowned Human Design entrepreneur, in this engaging webinar. Discover her journey from concept to success, uncovering the key strategies and insights that helped her build a thriving business in the dynamic field of Human Design. Ideal for aspiring entrepreneurs and enthusiasts, this session promises practical advice, real-world examples, and a Q&A segment. Don't miss out on this opportunity to learn from a leader in the industry!
December 14, 2023 9:00 pm GMT+0
Key Steps to take when starting Human Design business
Join our insightful webinar, hosted by Viktorija and Chelsie, to learn the key steps for launching a successful Human Design business. Discover how to overcome challenges, grow your online presence, and make an impact in the digital world. This session is perfect for newcomers and those looking to enhance their strategies.
Stay informed about upcoming webinars
Don't miss out on our informative sessions. Subscribe now to receive notifications and ensure you're always in the loop about our latest Bodygraph Chart webinars.