Feature highlights
Catering to unique needs: the power of Human Design monetization

Tap into the diverse preferences of your audience by aligning offerings with their specific Human Design attributes.

Maximize revenue with targeted Human Design promotions

Boost sales and interest by promoting products or content tailored to each Human Design type.

Tailored links for personalized user experience

Enhance engagement by directing users based on their specific Human Design traits.

Leveraging HD properties for revenue growth

Discover the potential of Bodygraph Chart attributes to unlock new income streams.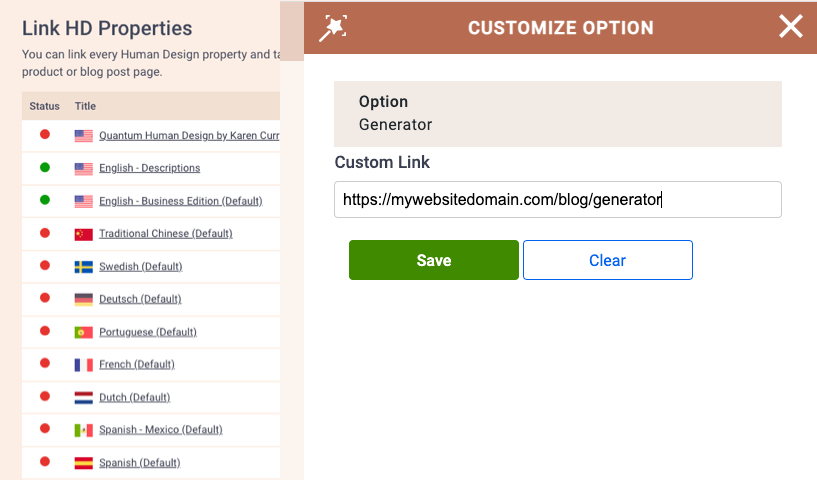 New revenue streams: personalize with HD Properties
Leveraging the HD properties in your Bodygraph Chart can open up a new avenue for monetization. By creating tailored links and directing users based on their specific Human Design attributes, you can promote targeted products, services, or content. This personalized approach not only enhances user experience but also offers an opportunity to increase revenue by catering to the unique needs and interests of each Human Design type.
Webinars
December 4, 2023 8:00 pm GMT+0
Turning Passion into Profit: Amy Lea's Human Design Business Success
Join Amy Lea, a renowned Human Design entrepreneur, in this engaging webinar. Discover her journey from concept to success, uncovering the key strategies and insights that helped her build a thriving business in the dynamic field of Human Design. Ideal for aspiring entrepreneurs and enthusiasts, this session promises practical advice, real-world examples, and a Q&A segment. Don't miss out on this opportunity to learn from a leader in the industry!
December 14, 2023 9:00 pm GMT+0
Key Steps to take when starting Human Design business
Join our insightful webinar, hosted by Viktorija and Chelsie, to learn the key steps for launching a successful Human Design business. Discover how to overcome challenges, grow your online presence, and make an impact in the digital world. This session is perfect for newcomers and those looking to enhance their strategies.
Stay informed about upcoming webinars
Don't miss out on our informative sessions. Subscribe now to receive notifications and ensure you're always in the loop about our latest Bodygraph Chart webinars.